About Us
Home of the NASA exclusive Technical illustration Space Shuttle T-Shirt
For over 20 years this technical illustration, drawn by our own Mark Tower, lingered in obscurity with us not really knowing what to do with it. That question was answered for us the day we found out that NASA was retiring the shuttle program. Since the first drawing was to pay respect to the challenger crew, it only made sense to put one together for each of the shuttles that have flown under the program's history. The shuttle program was the launching point of many dreams for boys and girls and such a major part of our history as Americans. If putting these shirts, posters, etc. together will keep the memories of the people that worked so hard to give us the dreams of what is possible, we had to do it.
Although the program is retired and we are eagerly waiting to see what the future holds for our space program, these designs we can hold on to the memories
We hope that as people are wearing these shirts or looking at our posters, that they will think….
think of the people who used these shuttles to go places we can only dream of.
Respect the people that worked so hard to make this now retired program as success.
Remember those that we have lost in our pursuit of Space Exploration.
Dream of what the future holds.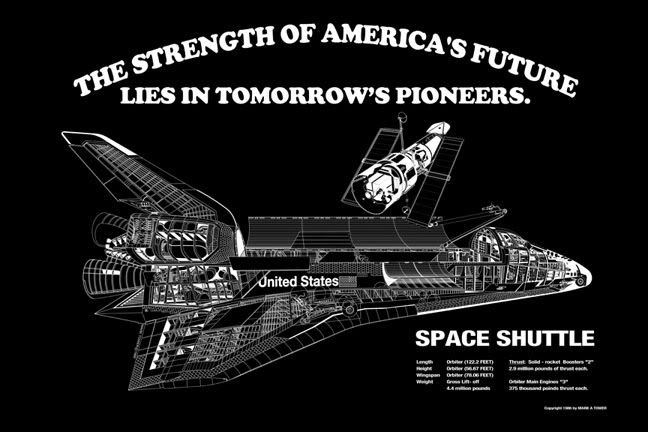 Original Poster Done in 1986 copyrighted Mark Tower